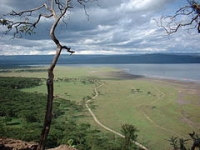 Lake Nakuru, a small (it varies from 5 to 30 sq km) shallow alkaline lake on the edge of the town of Nakuru lies about 160 km north of Nairobi. It can therefore be visited in a day tour from the capital or more likely as part of a circuit taking in the Masai Mara or Lake Baringo and east to Samburu.
The lake is world famous as the location of the greatest bird spectacle on earth - myriads of fuschia pink flamingo whose numbers are legion, often more than a million maybe two. They feed on the abundant algae which thrives in the warm waters. Scientists reckon that the flamingo population at Nakuru consumes about 250,000 kilos of this algae per hectare of surface area per year.
But flamingo are not the only avian attraction, also unforgettable are two fish eating birds, pelicans and cormorants for despite the tepid and alkaline water a diminutive fish, tilapia grahami has flourished after being introduced in the early 1960's. The lake is rich in other birdlife. There are over 400 resident species on the lake and in the surrounding park. Thousands of both little grebes and white winged black terns are frequently seen as are stilts, avocets, ducks and in the European winter the migrant waders.
Lake Nakuru National Park which surrounds the lake has recently been enlarged partly to provide a sanctuary for black rhino. This undertaking has necessitated a fence - to keep out poachers rather than to restrict the movement of wildlife. The park now has more than 25 rhino, one of the largest concentrations in the country, so the chances of spotting these survivors are good. There are also a number of Rothschild's giraffe, again translocated for safety from western Kenya. Waterbuck are very common and both the Kenya species are found here. Among the predators are lion and leopard, the latter being seen much more frequently in recent times. Some 30 km on the Nairobi side of Lake Nakuru is another alkaline lake - Elmenteita. Although situated on private land it can be visited and again is often home to tens of thousands of flamingo.