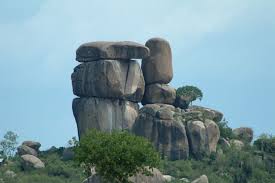 Short Excursions from Kisumu City, Kit Mikayi Bus Tour, Short Excursion Safaris
This city short excursion safari from Kisumu after breakfast by road to reach Kenya's most dramatic archaeological site, a vast granite rock tower called Kit Mikayi. Kit Mikayi is situated in Kisumu district, Maseno division, East – Seme – location, Kit – Mikayi sub-location, Kangeso village, Kadol clan. The rock which is about 70 to 80 ft tall is located 30kms Far East of Kisumu city and 1km from Kisumu Bondo road. The sign board is on the gate of Kit Mikayi primary school then you enter through N'gop-Ngeso primary school.
During this Bus tour from Kisumu we get to learn more about the legendary story behind Kit Mikayi which in Luo dialect means "the stone of the first wife" is that: Long time ago, there was an old man by the name Ngeso who was in great love with the stone. Everyday he wakes up in the morning, he could walk into the cave inside the stone and stay there the whole day, and this could force his wife to bring him breakfast and lunch everyday. The old man became passionately in love with this stone to the extent that people ask the wife his whereabouts, she could answer that he has gone to his first wife (Mikayi) hence the stone of the first wife (Kit Mikayi). More further explanation about this unique stone is that according to its feature and components, the structure represents the Luo cultural polygamous family which had the first wife's house (Mikayi) built further in between on the right hand side was the second wife's house (Nyachira) while the third wife's house (Reru) was built on the left hand side of the homestead. Kit Mikayi is also seen to have a nuclear family whereby the father (Ngeso) being the middle stone followed by the bulky Mikayi (first wife), then Nyachira (second wife) followed by Reru (third wife) and further in front they have the child which is representing Simba (which is the house for the first born boy in the homestead). From a long time, this stone has been a sacred place for the villagers to worship during the trying moment. You will then be driven through the villages before departing to Kisumu to end your short Excursion safari.