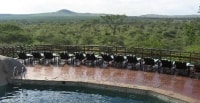 Serengeti Wildlife Lodge is located in the Serengeti Central area of northern Tanzania.
This place is one of a chain of large motel type facilities built by the government back when safari lodges were very thin on the ground.
The architecture is right out of the 1970's. Public areas are really rather fun, with rooms and corridors worked in amongst natural rock kopjes, with a definite hint of James Bond villain's lair. The eighty or so rooms however are much less attractive, being housed within two-storey army-style billet blocks.
We do find ourselves attracted to the retro aspects of this Serengeti Wildlife Lodge and always enjoy visiting, meeting the friendly staff and mixing with people in the bar. But ultimately it is a difficult place to recommend for inclusion in many safaris. 
The few times that we do book it tend to be around Mar/May when many of the tented camps are pulled out because of the rains, plus guest numbers and prices here are at their lowest.