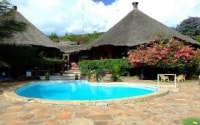 Welcome to Impala Wildlife Lodge. Experience the warm hospitality, spectacular scenery and magnificent wildlife heritage of the world famous Maasai Mara Game Reserve.
Impala Safari Lodge is a luxurious Lodge true to the wild experience situated South Eastern edge of the Masai Mara Game reserve on the banks of Ololaimutek River which is a watering point of Wild Animals. With its stuning location, Comfortable Accommodation, excellent food and good services makes one feel at Home far away from home.
All the structures are styled after an African Village concept with African ambiance. Great care has been taken to ensure that from every verandah within the surrounding, one will see nature celebrating its glory with breathtaking landscapes, ranging from the gentle rolling grassland and hills to the dense tropical flora dotted with game as found nowhere else in the world.
Under the canopy of heavy foliage, the lodge is set on a beautiful landscaped garden inside the Mara Game Reserve. The lodge is medium and therefore carters for a limited number of guests so as to ensure personnel attention to each and every guest.
Impala Wildlife Lodge is under New Management since  February 2011. To keep in line with our vision, we have restructured our internal systems and personnel to ensure that we move a step closer to attaining our goal to be among best  in the hotel industry.
As part of restructuring exercise, we have recruited new profession staff with abundant experience in the industry in all the major departments – Ownership, Management, Housekeeping, bar/restaurant and in the Kitchen.
The management promises our clients splendid time at our Impala Wildlife Lodge and value for there money. We also welcome you suggestions to make your stay memorable at our lodge